Coming Together in Niles Township just started January 27,2019. It's a great way to learn about a new culture. In this year's edition, this great festival is all about Polish culture. Here are a few snapshots from the Coming Together 2019 Opening Ceremony. ABC 7 coverage.
Enjoy the video from the Coming Together 2019 Opening Ceremony
video credit: Rodzice w Ameryce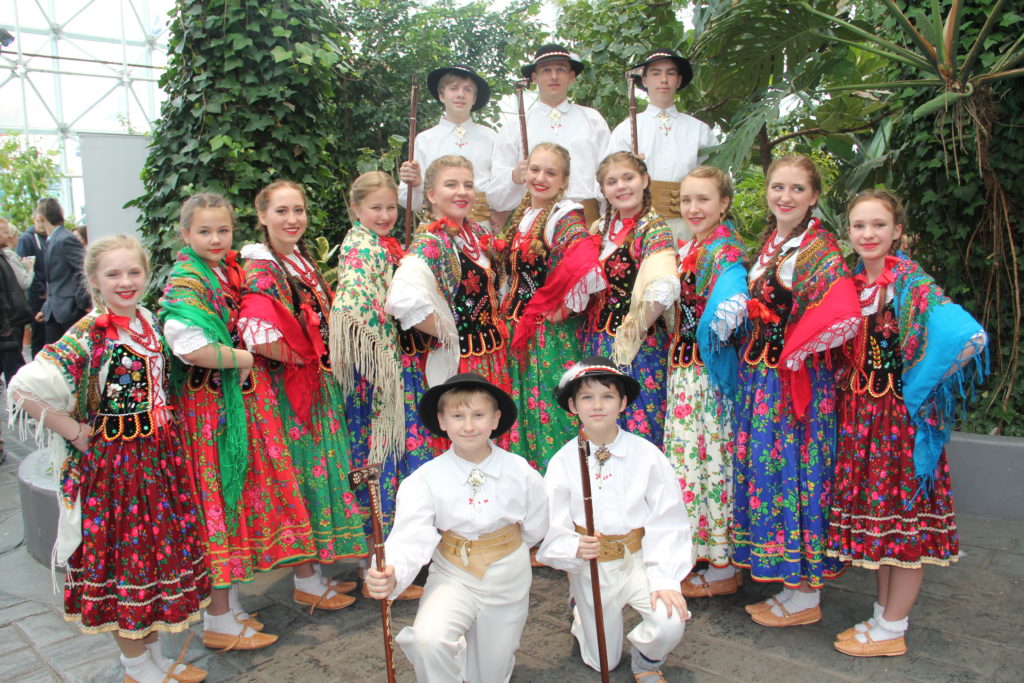 Sunday, April 10, 2016 Polish culture had been celebrated at Navy Pier in the program Neighborhoods of the World. During the event organized by Polish American Chamber of Commerce the audience was able to enjoy music, dance learn about Polish culture and tradition.
Poland Visits Chicago at Navy Pier's 6th Annual "Neighborhoods of the World"   By Alexandra Olsen
Every year since 2010 Navy Pier has hosted weekly celebrations of different cultures in its Crystal Gardens between February and April. The celebrations focus on cultures that are represented within Chicago land neighborhoods. On April 10th, Poland took center stage at the Crystal Gardens.
PNA Dance Groups are best known for their hard work and love for Polish folk culture. On March 8, all PNA Dance Groups performed their talents at the Lane Tech High School's stage. The night gathered over 400 children and young adults, representing folk dances from various regions of Poland. To view pictures from the event, please click the link above  for our photo gallery.
Rozśpiewane i roztańczone ludowe zespoły działające pod patronatem Związku Narodowego Polskiego wystąpiły w dorocznym wiosennym koncercie. Publiczność przez ponad trzy godziny oklaskiwała nie tylko umiejętności młodych tancerzy, ale także i ich entuzjazm.
W barwnym widowisku zaprezentowały się m.in.: Słoneczka, Gwiazdki, Polonez, Małe Wici, Świtezianie z chórem Iskra i Warta, Polanie, Wawel, Mały Wawel, Wiślanie, Gaik, Gaiczek, Śmieszki i Figielki, Vera, Lajkonik, Mały Lajkonik, Wisła, Mała Wisła, Whisperers, a także reprezentacyjny zespół Związku Narodowego Polskiego − Teatr Pieśni i Tańca "Wici".
Młodzi tancerze i wokaliści, tryskający radością i energią, zademonstrowali dużej klasy umiejętności. W różnorodnym repertuarze układów choreograficznych przedstawiono: krakowiaki, polonezy, polki, walce, trojaki, kujawiaki oraz tańce kaszubsko-pomorskie, cieszyńskie, kurpiowskie, śląskie, wielkopolskie, lubelskie i łowickie. Była nawet grecka zorba. Wirowali na scenie w kolorowych, regionalnych strojach, tak, że aż dech zapierało. Największą nagrodą dla artystów były gorące brawa publiczności.
Ogromne uznanie dla młodych tancerzy i organizatorów koncertu wyraził Frank Spula, prezes Związku Narodowego Polskiego i Kongresu Polonii Amerykańskiej. Dyrektorka Wici, Magdalena Solarz, czuwająca nad całością imprezy od strony artystycznej i choreograficznej, została obdarowana kwiatami przez swoich wychowanków.
Koncert, prowadzony przez Kingę Modjewską i Grzegorza Chilińskiego, był dowodem na to, że muzyka, śpiew i taniec folklorystyczny są naprawdę piękną formą podtrzymywania polskich tradycji i dziedzictwa narodowego wśród młodej Polonii.
Przypomnijmy, że pod egidą Związku Narodowego Polskiego działa około sześćdziesiąt zespołów pieśni i tańca oraz chórów, które pielęgnują oraz promują kulturę kraju nad Wisłą. Co roku grupy artystyczne biorą udział w wiosennym galowym koncercie, a co cztery lata w festiwalu młodzieżowym, którego sponsorem jest ZNP.
Tekst i zdjęcia: Artur Partyka